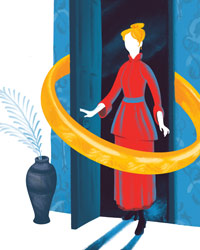 A DOLL'S HOUSE, Part 2
When
Runs from Sunday September 16 2018 to Sunday October 14 2018
Approximate running time: 1 hour and 30 minutes
Venue
Performance Notes
×
A culture-defining drama revisited.
In 1879, when Nora left her husband and children at the end of Ibsen's A Doll's House, her door slam reverberated around the world, creating a storm of controversy; much of it focussed on Ibsen's clarion call for gender equality.
Hnath's stunning new drama begins with a knock on that same door 15 years later, as Nora returns with an urgent request, confronting husband, daughter and the woman who raised her children.
Layered and very current, A Doll's House, Part 2 was nominated for the 2017 Tony Award – Best Play.
A Doll's House, Part 2 is part of the Belfry's Mainstage subscription series. Save up to 40% with a
season ticket package
by calling the box office at 250-385-6815.