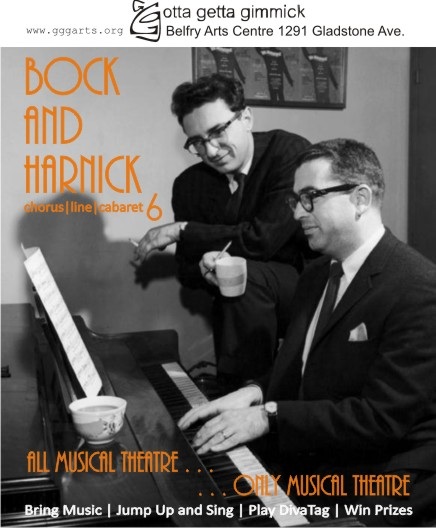 Chorus/Line/Cabaret 6
When
Occurs on Monday December 17 2012
Approximate running time: 3 hours
Venue
Play Notes
×
Presented by Gotta Getta Gimmick
A night celebrating Musical Theatre and the folks who love it, featuring music of the composer/lyricist duo Jerry Bock and Sheldon Harnick, hosted by the spectacular Glynis Leyshon. More than 20 singers! All musical theatre, only musical theatre.
GGG is back with the sixth installment of the Chorus | Line | Cabaret series – exploring the vast and varied work of musical theatre with some of Victoria's best singers and performers, just in time for Christmas!
Act 1 – We serve up the work of Jerry Bock and Sheldon Harnick, the dynamic duo responsible for Fiddler on the Roof, The Rothschilds, Tenderloin, She Loves Me, The Apple Tree, and one of the nine Pulitzer Prize winning musicals, Fiorello (among others). With stories ranging from government corruption, religious and social persecution, commercialization to seemingly fatal attraction and hilariously classic musical comedy, these two have it all. The Bock and Harnick songbook brings together fact and fiction with characters that include Mayer Rothschild of the Rothschilds banking dynasty, the working girls of New York's infamous Tenderloin Red Light District, a would be Cinderella who wants to be a movie star, a Jewish matchmaker and even Adam and Eve, to name a few. Quite a show - not to be missed - hand picked by Gotta Getta Gimmick and Mr. Michael Shamata. Hosted by another famous Belfry Artistic Director, Ms. Glynis Leyshon.
Act 2 - You sing us what you've got. We'll take to the lobby bar, and let the musical theatre party really get rolling, with some special Christmas Cheer from the Chorus | Line. Join in, or listen and toe tap. No Holds Barred – Any Musical Theatre song is fair game. Bring your sheet music, sign up at the door to Jump Up, belt a favorite and win a prize. As always, we bring you the infamous "Diva Tag", Games, and a big overhead projector for Sing-alongs. Featuring Mr. Jim Hill as Resident Ivory Tickler . The taps are open, bring your ID! (CASH ONLY)