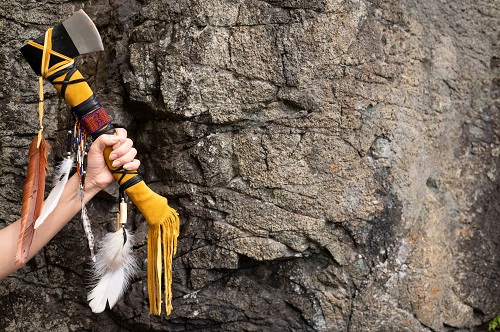 BURY THE HATCHET
When
Runs from Friday June 17 2022 to Saturday June 18 2022
Approximate running time: 1 hour and 35 minutes
Venue
Play Notes
×
Bury the Hatchet
is a cultural performative offering that expresses diverse Indigenous and POC concepts of peace-building. These newly devised performances confront the complexities of: war, violence, unity, peace and sovereignty by interweaving Indigenous governance, principles, and values systems which inform ethics and ways of conduct towards self, other, the land, and cosmos. This artistic ceremony urges the restoration of our sacred humanity which lays sleeping under the bodies and psyches of our collective historical trauma.
Bury the Hatchet
invites audience to receive, illuminate and connect the heart portal back to Ka'nikonhri: io (a good mind) to revitalize Skennen (peace).
Spirit in the Fringes is a trans-conceptual space that presences Indigenous methodologies, protocols, and teachings in order to transform the western theater environment. This art intervention in the Belfry lobby asserts the right of Indigenous peoples to be seen on their own terms, to reflect their experiences and perspectives, and creates a portal for the audience to see into their worlds. In particular, the voices and knowledge of LGBTQ2S+, Indigiqueer, people of colour, and women are centered - voices that have been silenced, disappeared, and muted by settler colonialism, patriarchy, Christianity, and capitalism. By enacting 'coming ashore' protocols, the authority of the Lekwungen people, the ancestors and the living earth is made visible. Imbued with the spirit of what it means to 'come to peace', Spirit in the Fringes prepares you to fully engage in the performances you will witness. Welcome to our house as we center and celebrate the Spirit in the Fringes.
Coming ashore protocols will take place 1 hour before each performance begins (7pm Friday | 1pm / 7pm Saturday). Audience members are encouraged to arrive in time to witness.
Tickets: $30.00